The team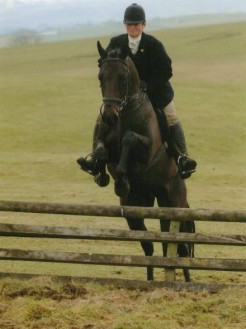 Sally Kingsley MRCVS BVSc BAEDT
Sally graduated from Liverpool in 1999 she worked in mixed practice in East Yorkshire before taking a job in Bucks as a mostly equine vet in a busy mixed practice. She then worked in equine practice before travelling to America in 2002 to train in equine dentistry. Sally spent the next year gaining experience to enable her to pass the Academy of Equine Dentistry exam, working alongside a Master EDT in California for several months. On returning home, she honed her work and continued to progress towards her BEVA exam which she then passed. She has built up her practice over the past decade, helping several individuals towards their BEVA certifcationl.
In her spare time sally enjoys eventing and sj her home produced horses up to Intermediate level, and hopes to gain her 4 double clears at Newcomers on her youngster. She also loves hunting with the Pendle, still aboard her 25 year old ex advanced evener, Polaris. She is trying to improve her running with a view to doing a half marathon next year. her right hand man is actually a girl and is her much adored and admired patterdale terrier, Beetle
Gemma has been around horses her whole life, and is extremely experienced and confident at handling all types of horses. She has helped manage the family livery yard for many years, and also worked at a thoroughbred stud working with mares, stallions and youngsters. The horses respond very well to her quiet, confident manner, quickly placing their trust in her.
Gemma is also very good at helping to explain to people what i am doing whilst working, and organising an ideal working environment.
In her spare time, Gemma enjoys riding and caring for her 3 horses, dogs and cat, and renovating her house in North Yorkshire. She is currently training for a charity walk to raise funds for her friend's child who needs to travel to the USA for surgery.